Pages: [1] 2 3 4 >>
Shawn91111 »

Posted 9/21/07 2:56:00AM



The event, which features UFC featherweight champion Jose Aldo vs. Frankie Edgar, takes place at Mandalay Bay Events Center in Las Vegas. The main card airs on pay-per-view following prelims on FX and Facebook.

Follow along with the official results beginning at approximately 7 p.m. ET (4 p.m. PT) for the preliminary card and 10 p.m. ET for the main card.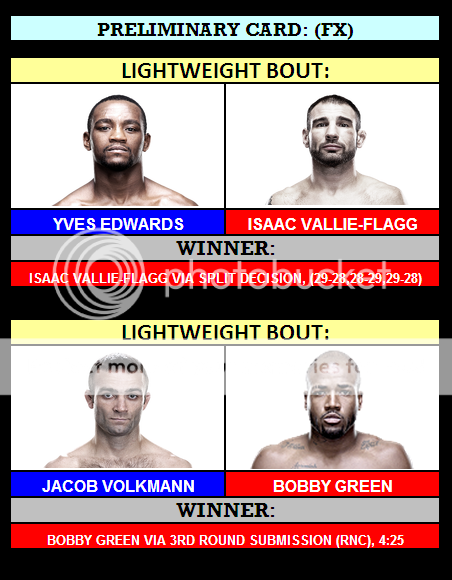 _______________________________________
On the comeback trail


sbulldavid »

Posted 3/8/08 5:44:00PM



Going to be an amazing night
BeeR »

Posted 6/28/09 1:36:00PM



Im already half drunk (despite the name, Im not a drinker), waiting for some ribs with a new dry rub to come out of the smoker, and vaping a mountain of freshly cured Blueberry Kush

cant wait.
JLS »

Posted 6/6/12 1:54:00PM



Aldo vs Edgar- Probably go down as one of the fights I am most eager for all year.
_______________________________________


Budgellism »

Posted 4/8/07 11:45:00AM




---

Posted by BeeR

Im already half drunk (despite the name, Im not a drinker), waiting for some ribs with a new dry rub to come out of the smoker, and vaping a mountain of freshly cured Blueberry Kush

cant wait.

---


Nice, I've got Blueberry kush as well


I won't get to see the main card until tomorrow though
_______________________________________



shaneTpain »

Posted 7/30/11 2:57:00PM



1 hour til shit gets REAL
emfleek »

Posted 11/18/07 4:54:00PM



That does NOT look like Rashad on that poster. Looks like a Kongo/Tito crossbreed. The skin tone doesn't even match Rashad's.

_______________________________________
"I'm like the superhero coming in with the anti-bullsh*t." - Nick Diaz


Shawn91111 »

Posted 9/21/07 2:56:00AM



I noticed it but still take it over the UFC's

_______________________________________
On the comeback trail


emfleek »

Posted 11/18/07 4:54:00PM




---

Posted by Shawn91111

I noticed it but still take it over the UFC's

---


Totally agree.

_______________________________________
"I'm like the superhero coming in with the anti-bullsh*t." - Nick Diaz


hotrodttt »

Posted 8/25/07 6:56:00PM




---

Posted by emfleek

That does NOT look like Rashad on that poster. Looks like a Kongo/Tito crossbreed. The skin tone doesn't even match Rashad's.

---


Tito Kongo or Chieck Ortiz?

_______________________________________
Fedor is the G.O.A.T


sparky »

Posted 7/5/07 6:21:00PM



I got my bong OG kush and Jack Daniels just waiting on this event to start
george112 »

Posted 1/24/07 7:00:00PM



Sparky, Budge yall lucky bastards


I'm stuck at work tonight. Yall enjoy the fights guys. I'll be reading the play by play
_______________________________________
Jan 2007


sbulldavid »

Posted 3/8/08 5:44:00PM



I think Rivera gets that round
BeeR »

Posted 6/28/09 1:36:00PM



wicked start to the night
sbulldavid »

Posted 3/8/08 5:44:00PM



1-0 14 points
Pages: [1] 2 3 4 >>