Pages: [1] 2
Poor_Franklin »

Posted 6/7/11 4:52:00AM



Discuss.

_______________________________________
Never Trust A Man Who Does Not Make All Of His Picks


sparky »

Posted 7/5/07 6:21:00PM



I'm a Raphael type guy
mrsmiley »

Posted 4/12/07 4:37:00PM



I'm going with Leo because of the swords.
"Their phallic symbols of manhood!"
FastKnockout »

Posted 9/24/10 8:39:00PM



Michelangelo
Theoutlaw08 »

Posted 3/23/11 3:38:00PM



Damn thats tough. Michelangelo, was the funniest and did some stupid stuff. It was between him or Raphael. Raphael seemed like a badass.
Bubbles »

Posted 10/20/09 3:33:00PM



Donatello for being the level headed one...and the way he uses the bo is awesome.

_______________________________________
The best cure for insomnia is a lot of sex. Even if it doesn't end up putting you to sleep, you don't mind so much

Men be careful, female sexual predators are using a date rape drug called a Blowjob to trap men into scams called relationships.
kopower »

Posted 7/3/07 12:31:00AM




---

Posted by mrsmiley

I'm going with Leo because of the swords.
"Their phallic symbols of manhood!"

---


Leo was the man. He seemed like a true ninja. Didn't like Raph because he was a little hot headed. Mikey joked around too much, and for some reason, never really liked Donatello.

_______________________________________
Billy Madison-

What you've just said is one of the most insanely idiotic things I have ever heard. At no point in your rambling, incoherent response were you even close to anything that could be considered a rational thought. Everyone in the playground is now dumber for having listened to it. I award you no props, and may the mods have mercy on your soul.
Poor_Franklin »

Posted 6/7/11 4:52:00AM



Donatello- smart guy, level headed & the bow gave him a huge reach advantage
Michelangelo- funny, but if i knew him in real life, he would get on my nerves, but in the end, we'd split a pizza & be happy watching cartoons
Raphael- yes, he is skilled & hot headed, but my biggest problem w/ him is he seemed to have trouble recognizing his role, which is directly under .....
Leofuckingnardo- Swords. Plural. Not a sword. Swords. Plus he's the leader. Don't question it (I'm looking at you Raphael).

They're all awesome, but none of them got shit on....
_______________________________________
Never Trust A Man Who Does Not Make All Of His Picks


cowcatcher »

Posted 1/16/07 1:02:00AM



Gotta be Leo for all the reasons stated as far as the cartoon went and because he was easily the best one to play at the arcade.

_______________________________________


prophecy033 »

Posted 7/4/07 4:41:00AM




---

Posted by mrsmiley

I'm going with Leo because of the swords.
"Their phallic symbols of manhood!"

---
This

_______________________________________


KingCmb »

Posted 3/19/09 8:18:00AM



donatello by far man forget your prissy swords and blades all he needs is a big F,N stick to kill bad guys
frizzzlecake »

Posted 5/25/12 8:57:00PM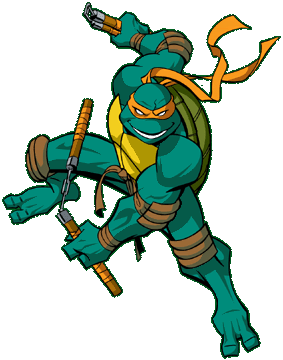 and

pmoney »

Posted 10/13/10 10:40:00PM



I'm a Michelangelo guy for sure. He was a joker with a heart of gold and a belly full of pizza! I had a Michelangelo costume for Halloween when I was like 5. I even took up nunchuks in Tae Kwon Do because of his inspiration!
airkerma »

Posted 1/6/10 12:05:00PM



From tv idk, but from the movies it has to be Don. He's as funny as Mike in most of the scenes, kicks more ass than Mike, and doesn't get butthurt at the drop of a hat like Leo. In video games Don or Mike are usually the best (turtles in time, turtles 2, tournament fighters).

_______________________________________


Lungsofsteel »

Posted 7/6/12 5:14:00PM



Raphael has always been my favorite growing up. The 1990 TMNT movie was my favorite thing they ever did with them.
Pages: [1] 2