emfleek »

Posted 11/18/07 4:54:00PM



Undefeated NAAFS heavyweight champion Stipe Miocic (6-0 MMA, 0-0 UFC) is taking his talents to the UFC.

The Ohio-based MMA promotion recently announced the signing, though UFC officials haven't made a formal announcement.

Miocic, a former NCAA Division I national wrestling qualifier, went 5-0 as an amateur and owns a 6-0 professional record. All of his victories have come via stoppage.

According to the release, Miocic's first UFC fight and opponent will be announced shortly.

Perhaps not coincidentally, the UFC long has considered hosting a show in northern Ohio. The 28-year-old Miocic fights out of the Cleveland area, which continually draws solid TV ratings for UFC broadcasts.

LINK

_______________________________________
"I'm like the superhero coming in with the anti-bullsh*t." - Nick Diaz


Playground_Samurai »

Posted 1/28/07 4:36:00PM



Stipe's a killer. Not sure how he'll fare in the UFC, but i'm a fan and look forward to seeing him take the step up.

_______________________________________
Twitter: @Brooks_B
@TheMMAddiction

40ouncetpkid »

Posted 5/3/11 12:43:00AM



I was starting to get worried there for a minute, the Heavyweight division was slowly starting to fade a little bit since Roy & Carwin got back to back losses, Lesnar's fighting career is a huge question mark, I was afraid the talent was going to die down and their wouldn't be a decent be opponent for the winner of Cain-JDS since a lot of them are too green & young or too old.

Glad to see their still building the heavyweight division. Might have to look this guy if people are calling him a killer, that fascinates me
Budgellism »

Posted 4/8/07 11:45:00AM



Good signing. I'm not too sure how he'll fit in but he's exciting and the HW division needs something to get excited about.

_______________________________________



Mayhem13 »

Posted 6/28/07 1:10:00AM



i have had the pleasure of watching Stipe fight since he was an amateur, and also have the pleasure of watching him train every week...

He is 100% legit. 11 wins in 11 fights, all by KO/TKO (some tapped due to strikes)

He is a golden gloves boxer, with a NCAA Divison 1 wrestling background to go with it.

but most of all, this is the most humble and down to earth guy, to ever step foot into the cage

well deserved shot, and I believe he will turn some heads on his way to the top...

WAR STIPE!!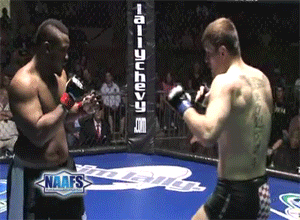 quezocrema0032 »

Posted 7/15/07 12:46:00AM



Just based off of credentials this guy looks legit. Wrestling and striking already and I'm sure his bjj will come along. Looking forward to his debut.
BustedKnuckle »

Posted 9/2/09 5:48:00PM



This guy is the real deal. Wrestling is definatly on point and seems to be a natural striker. Glad to see the NAAFS represented here. A few guys I know are fighting for them as amatuers.