Aiden08 »

Posted 12/4/09 10:28:00PM



THE REAL WINNER OF UFC 108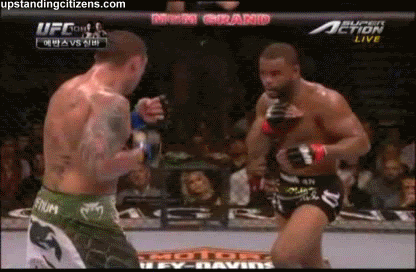 tmas »

Posted 6/15/07 2:09:00AM



is this face or opinion and um anyone can take a few 2nds of a fight slow it down and say omg he dominated him he should of win.....
hate4thestate »

Posted 9/4/09 12:12:00AM



well silva def won the 3rd round and rashad got the first 2. it really depends on how you judge fights. in the us its a win for rashad in japan more then likely a win for silva. i honestly think silva should get the nod but knew he wouldnt cause of the retarded scoring system in america.
king_katool »

Posted 3/8/08 3:32:00PM



Keep hatin boys, Rashad loves being the underdog
State_Champ »

Posted 6/11/07 4:16:00PM



Awesome!
Aiden08 »

Posted 12/4/09 10:28:00PM



can somebody make this smaller so i can put it as my avatar...? please!!!!!
gartface »

Posted 7/29/07 7:00:00PM



Wasn't aware the decision was overturned...
_______________________________________


Boo_Radley21 »

Posted 7/19/07 12:28:00AM



He got dominated for the first two rounds so I wouldnt say it was close to him winning. He almost finished it but he didnt and had no chance at taking a decision at that point in the fight.
BustedKnuckle »

Posted 9/2/09 5:48:00PM



I hate to say it but suga won the fight. Too bad Silva forgot how to finish the fight when he needed it most!!!????
Props to Rashad for staying with the gamplan though
telnights »

Posted 6/21/07 4:17:00PM



I going to lock this topic and remove it tomorrow. If you want to post just a gif they need to be posted HERE.

_______________________________________
MMA Playground Mod
Telnights