UFC Quick Quote: Frank Trigg doesn't see anyway Matt Serra can really beat him
[View Full Version]
RhythmAndStyle »

Posted 1/25/08 3:12:00PM



This isn't a guy you can take lightly. This is a guy that really knows what he's doing. He almost beat Matt Hughes. He's been in great wars before. He's a former champion. He knocked out GSP, or (rather) TKO'd GSP. He's a guy that's very tough. He's got some great techniques. He's got some great guillotines. He's got great balance when trying to take him down. It's tough to take him down. He's obviously got a great overhand right. He's very, very good. But I have to agree with you guys.

Link
SamPan »

Posted 2/17/09 12:13:00AM



I do. TKO, sub or UD. Split decision might be harder tho
Giant_Ochai »

Posted 5/19/09 7:57:00PM



If Trigg has anything left he wins this fight easily. I'm not sure he does though.
sparky »

Posted 7/5/07 6:21:00PM



I think Serra is going to take this by submission personally!!
Boo_Radley21 »

Posted 7/19/07 12:28:00AM



Serra is going to win this fight for sure, and I can't wait. He needs to go back down to LW though.
joshjr »

Posted 3/5/08 4:20:00AM



Dont get me wrong I like Trigg but isnt this normal banter from him? He always says this. Then when he gets beat its like oh thats how they can beat me. Good luck Trigg. I hope you do win.
EvenFlow »

Posted 11/9/08 6:40:00PM



like this...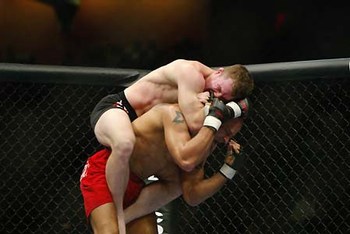 emfleek »

Posted 11/18/07 4:54:00PM



Sorry, I can't root for anyone that names their son "Stone".

I'm going with Serra via TKO.

_______________________________________
"I'm like the superhero coming in with the anti-bullsh*t." - Nick Diaz


BustedKnuckle »

Posted 9/2/09 5:48:00PM



Seems like he has a solid, inteligent game plan, but so did the guys navigating the Titanic. Matt Serra is going to win this fight. Either by sub, or just maybe a Serra "Haymaker from Hell" could land. WAR Serra! Good Bye Frank