richieb19 »

Posted 2/4/07 7:47:00PM



Greatest pic eva!!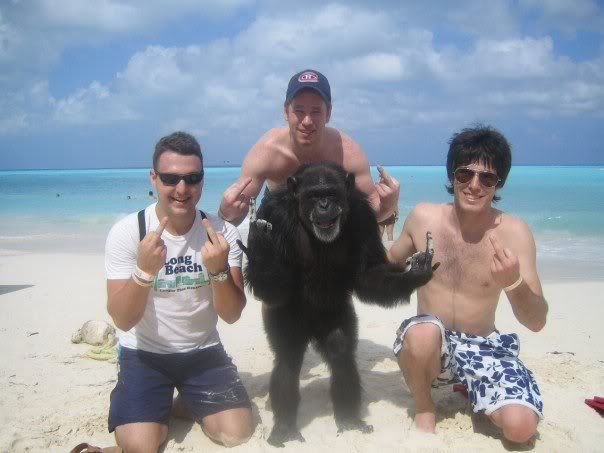 Apperantly it was some tourist attraction, this bonobo takes pictures with people for money, and it looks like he picks up quick...

They even got it up on collegehumour

http://www.collegehumor.com/picture:1749945
sfhdsa »

Posted 1/24/07 6:44:00PM



Isn't the monkey holding up the wrong finger?

That's pure jealousy talking, btw.
Ydoc »

Posted 2/2/07 9:39:00AM



Pure gold.
ffforgottenx »

Posted 1/25/07 8:56:00AM




madmarck »

Posted 1/24/07 5:55:00PM



thats awesome. that picutre deserves to be on College humor. except for that Hat. Toronto Maple Leafs all the way.
hippysmacker »

Posted 1/15/07 9:10:00PM



Definately a keeper
_______________________________________
"Never violate a woman, nor harm a child. Do not lie ,cheat ,or steal.for selfish gain. These things are for lesser men. Protect the weak against the evil strong. And never allow thoughts of gain to lead you into the pursuit of evil. Never back away from an enemy. Either fight or surrender. It is not enough to say I will not be evil. Evil must be fought wherever it is found."
The Iron Code

cowcatcher »

Posted 1/16/07 1:02:00AM



the picture has the key to comedy gold: a monkey, add a midget and ill pee my pants

_______________________________________