MMA Regular
Hello from Hawthorne! I'm a fan, not a fighter- but I have dabbled in some Judo and boxing. I jumped on the UFC bandwagon during TUF Season 1. My interest peaked during season 3, and I got to go see Tito and Forrest duke it out at the Pond. I am hooked. I never really played fantasy football, because I can only name a few players on each team, but I find myself knowing more and more about some of the more well known MMA fighters. I'm less familiar with Pride, but am familiar with Jackson and Crocop and am stoked they will be coming to the UFC. Hopefully Crocop doesn't kill sombody with those kicks. I've been getting most of the PPV events for UFC and this will add to the fun.

As you can tell by my avatar, I don't take myself too seriously. I grew up in the South Bay, and went to College at Arizona State. I worked five years with the LA Co Sheriff's Dept. and currently work Federal LE.

Attached is one of my pics from the nose bleeds!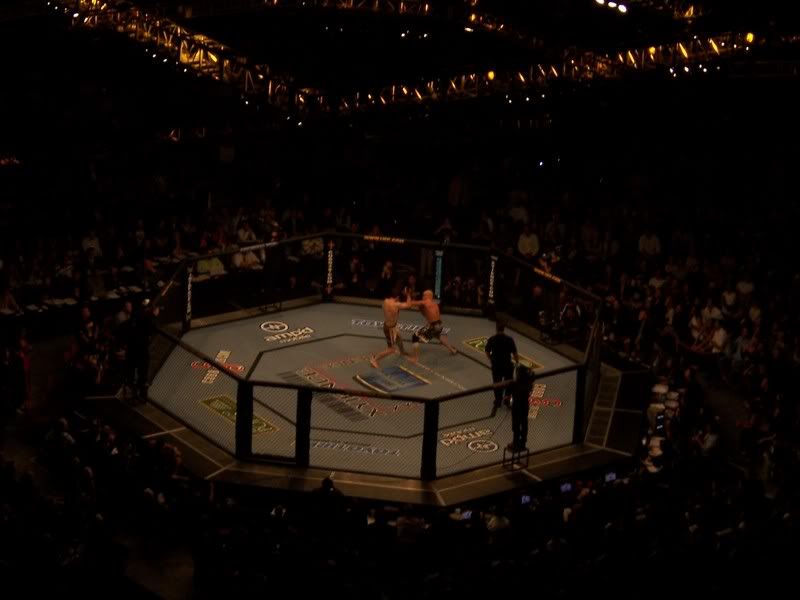 Last edited 1/19/07 1:53AM server time by Nacho
Edit note/reason: n/a
3 total post edits
Ad: FanDuel: Daily Fantasy Sports
Ads FanDuel launches Mixup, a fun version of daily fantasy sports for casual fans
MMA Regular
---

Posted by blackmamba89

Welcome!
I was there at 59 too and it was pretty neat.



---

I actually prefer just getting it at home. I like seeing what's going on and hearing the commentary. I also don't have to worry about some drunk wanting to pick a fight just because I'm rooting for the other guy.

Last edited 1/20/07 4:36AM server time by Nacho
Edit note/reason: n/a

Ads FanDuel launches Mixup, a fun version of daily fantasy sports for casual fans