Season 1 Champion Bubbles
Season 2 Champion tattflash
Season 3 Champion Rabi
Season 4 Champion Pookie
Season 5 Champion hotrodttt

UFC 153

Everyone is back in:

lohmann = Anderson Silva
Kpro, cowcatcher = Phil Davis
sparky, Rabi = Big Nog
Edwards, Budge = Glover Teixiera
Bubbles, JLS1980 = Rony Jason
emfleek = Jon Fitch
tattflash = Rick Story

UFC on Fuel TV 6

Still in: lohmann, Kpro, cowcatcher, sparky, Rabi, Edwards, Budge, Bubbles, JLS1980, emfleek

sparky, emfleek = Rich Franklin
lohmann, Rabi = Thiago Silva
Budge, Edwards = Riki Fukuda,
cowcatcher, JLS1980 = Mizugaki
Kpro = Gomi
Bubbles = DHK

UFC 154

Still in: lohmann, Rabi, Budge, Edwards, cowcatcher, JLS1980, Kpro, Bubbles

Edwards, JLS1980 = GSP
Bubbles, cowcatcher = Menjivar
Budge = Stout
Rabi = Carmont
lohmann = Carvalho

UFC on Fox 5

Still in: Edwards, JLS1980, Bubbles, cowcatcher, Rabi, lohmann

Edwards = Stephens
Bubbles, Lohmann = Siver
JLS, Rabi = Jorgensen

UFC on FX 6/Ultimate Fighter 16 Finale

Still In: Bubbles, Lohmann, JLS, Rabi

FX

JLS1980 = Pierce
Rabi, Bubbles = Mendes

TUF Finale

JLS1980 = Poirier
Bubbles, Rabi = Nelson

UFC 155

Still in: JLS1980, Bubbles, Rabi

JLS1980 = JDS
Bubbles = Holloway
Rabi = J Miller

UFC on FX 7

Final

Bubbles v Rabi 2-1

Bubbles = Castro, Gonzaga and Prado
Rabi = Trinaldo, Alcantara, Sarafian

Winner

Bubbles
Phil "Mr. Wonderful" Davis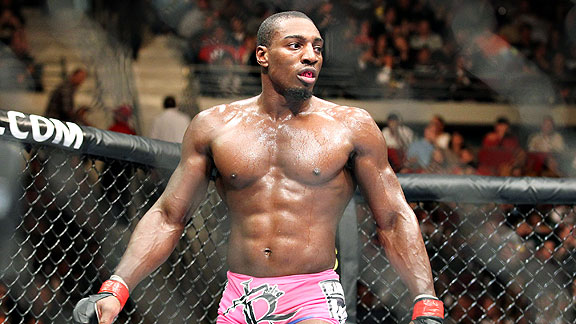 Edwards
10/6/12 9:44:44AM
May i join? I'll take Texeira thanks
Its going to be a Team FRY GUY final with SparkS taking the win this season
Edwards
10/6/12 10:01:55AM
Thanks Rabi, youre right about Team Fry Guy Sparky but you'll finish a close 2nd lol
Can I get in?

My pick-Rony Jason

I this first come first serve meaning if someone picks Anderson Silva he's off the board?


Yes you can get in, its first come first serve, once two people have picked a fighter no one else can pick them.
Im changing my pick to Big Nog
sparky
10/14/12 12:29:22AM
UFC on Fuel TV 6

Rich Franklin
emfleek
10/14/12 12:37:42AM
UFC ON FUEL 6: Rich Franklin
We only lost 1 player in the opening round.

UFC on Fuel TV 6

Still in: lohmann, Kpro, cowcatcher, sparky, Rabi, Edwards, Budge, Bubbles, JLS1980, emfleek
Hmmmm, Franklin, Mizugaki, Fukuda gone.....

I'll take Gomi. 2-5 in the US, 31-4 in Asia and the UFC's first event in China.