UFC Rio 3 already has his first fight: Glover Teixeira x Rampage Jackson
BuffaloDave
7/9/12 1:54:16PM
The UFC has officially confirmed with exclusivity to SPORTV.COM on Monday, the first fight of the UFC Rio 3, held in October in Rio de Janeiro: Brazilian Glover Teixeira, unbeaten in 16 fights, will face the controversial American Quinton " Rampage "Jackson in the category of true duel-medium-heavy weights. It was not decided yet if the confrontation is the co-main event of the night, but he is already considered a big draw for the tournament, since it may represent the last fight of Rampage Jackson UFC.
LINK
BuffaloDave
7/9/12 1:56:24PM
Well Rampage, you got your wish again, the UFC brass has given you a striker once more. Tried with Shogun, but your knees weren't ready, Next up is Glover, time to put up, or fade away!!
Nice.
prozacnation1978
7/9/12 2:17:52PM
Very nice fight. I think rampage is gonna get lose
Rampage will probably have great odds.
danclarke1992
7/9/12 2:31:28PM
cant wait for this fight
Amazing...
Great fight I hope Page comes in and shines. Win or lose. If its going to be his last fight I want a great memory.
ghandikush
7/9/12 2:34:01PM
I will pick against Rampage facing anyone anyone these days

He's already retired, he just wont know it till he racks up a loss streak rivaling Tito
Well Rampage is gonna get his final fight in the UFC against Glover. This will be the fight that puts Glover in the top 10 in the LHW division since Rampage is still in the top 10 and is much more relevant than Kyle Kingsbury, Glover's last opponent. Hopefully Rampage takes his training serious this time because he looked awful against Bader. Glover wins this.
FastKnockout
7/9/12 2:44:58PM
I'm all for this fight.
Pskinner_mma314
7/9/12 2:51:17PM
Rampage will more than likely lose. Not because Glover is better, but because Rampage's heart just ain't in it anymore.

I've said it on here so many times, Rampage peaked and lost his passion for fighting when he finally knocked out Wanderlei. Ever since then, he just hasn't seemed to have the motivation to REALLY fight.

I at least hope he puts up a fight, if it truly is his last.
sbulldavid
7/9/12 2:52:32PM
I like this then if Shogun and Glover win we'll get to see Shogun vs Glover after all.
Budgellism
7/9/12 2:57:04PM
Nice!
ghandikush
7/9/12 2:57:43PM
---

Posted by sbulldavid

I like this then if Shogun and Glover win we'll get to see Shogun vs Glover after all.

---
Shogun will have something to win at that point poster above stated Kingsbury's not exactly title material
gartface
7/9/12 3:03:58PM
Glover is going to send him into retirement.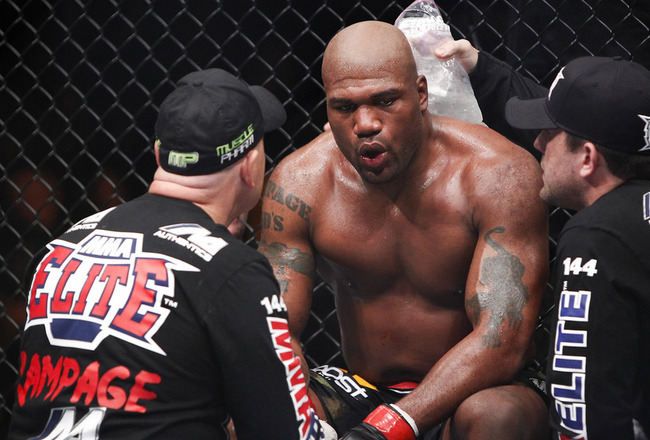 Franklinfan47
7/9/12 3:24:02PM
Twenty20Dollars
7/9/12 3:26:21PM
Just release Rampage.
I dont want to see a guy fight, when he clearly doesnt want to fight.
Poor_Franklin
7/9/12 3:30:38PM
awesome fight if Rampage trains hard & wants it.
Very interesting fight, for a number of reasons.

Teixeira has been trying to get into the UFC for a while, and the frustration of Visa denials finally paid off with an impressive debut. He quickly informed the LHW division that he's to be taken seriously, and we didn't even see all of his game.

I'm giving Rampage a good chance at this, if (like others have said) he trains properly. It's kind of sad that this is even a question anymore, from the guy who demystified Chuck Liddell and applied a disciplined defense against Hendo along with brutal vengeance on Wanderlei.

But if Rampage comes in fit and well prepared, he's got the style to beat Teixeira - awesome chin, excellent parries and counters, and stout takedown defense. All three of those would, in theory, neutralize Glover's game, especially in a 3 round fight where cardio isn't as important. Glover's striking reminds me a bit of vintage Wanderlei, lots of hard swinging punches as opposed to straight shots, and I feel Rampage tailored his boxing directly as a result of the beatdowns he received in Pride.

Looking purely at momentum, Teixeira's the smart bet - and if he's the betting underdog, it may be worth looking into. I'd see how the line plays out and if there's any insight into Rampage's training camp. If it's quiet or negative, then a few bucks on Teixeira may work out. There's a very good chance he'll swarm Rampage, hurt him enough not to KO him but to open up a choke, and Glover's got the BJJ to lock that in.
infestructure
7/9/12 4:45:15PM
---

Posted by Franklinfan47



---
I second that
I do not know if everybody seeming to lean Teixeira says more about his hype or everybody's perceptions about Jackson.
infestructure
7/9/12 5:05:13PM
---

Posted by lohmann

I do not know if everybody seeming to lean Teixeira says more about his hype or everybody's perceptions about Jackson.

---
I liked him before he upset whoever it was in his last fight!
I sound like a fanboy
On a side note, anyone notice the pronunciation of Texeira is almost the same as Tuscherer?
SpiderSilva
7/9/12 5:58:52PM
---

Posted by infestructure



---

Posted by Franklinfan47



---



I second that

---
Sir_Karl
7/9/12 6:23:25PM
I think Rampage is going to get beat up. Teixeira is on the rise....look out.
I-GOT-THIS-PICK
7/9/12 6:24:27PM
This is a win win situation for the UFC if Glover wins it's against a top guy in Rampage and if Rampage wins the UFC will resign him and we will get to relive all of the DRAMA and black on black crime that he brings to the UFC
Jackson's mental state will be the determining factor in this fight. If he comes in prepared and determined, I see him having little difficulty defeating Teixeira. If he comes in all sullen like he has his last few fights, I will most likely be outpointed by Teixeira.
Rampage should still fight in Japan again if he loses to Teixeira. That being said this is still a good fight, if Rampage has any TDD left he should do better than the ground because if this hits the ground it's going to get ugly for him.
tallica62
7/9/12 6:59:34PM
Rampage still fights?