The following data represent estimates of the UFC buyrate figures over the first six months of both 2008 and 2009: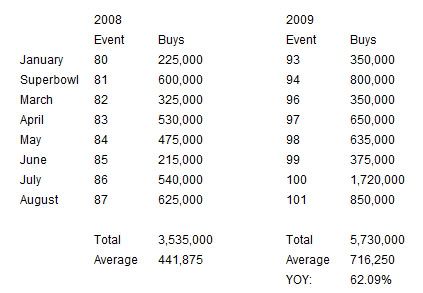 Payout Perspective:
The UFC is up an estimated 62% on year-over-year PPV revenue from 2008 to 2009. It also out-performed each of its monthly totals from 2008 to 2009.
Perhaps even more telling, however, is the year-to-date PPV figure of 5.7 million – it's just 500,000 short of last year's record-breaking 6.2 million buys.
All this is quite impressive for a sports organization operating in what most have predicted to be the deepest part of the current recession; a recession so bad that even the economy-proof sports market has declined as ticket sales have slumped, television advertising revenue has decreased across the board, and salary caps throughout the major leagues look at the possibility of actually taking a step backward.
What has led the UFC to this point? Some combination of the following factors:
Rest of Story