Okay so im bored at a school and i decided rather than read a 9 page article i will make up some pointless quiz.
Please PM me the answers so i can see how miserably you fail.
Most of these you will not get. Unless i feel that your answer is beyond awesomness. I hope someone checks this out. After all im gonna look dumb in history because of this.
1)Why Should Fedor be undefeated
stoppage due to a illegal blow
-There was that time he got that gay cut
- Because he has since learned that taking blood thinners will not give you an erection, AND it causes you to bleed like a stuck pig when punched in the kisser.
- the doctor who stopped the fight was high on pcp.
2)Why Should Ricardo Arona be undefeated.
He Shouldnt he lost 5 times
-He shouldn't
-Becuase he has a peaceful name (wrong but good)
-ricardo arona should be undefeated because, what the hell are you talking about he sucks...
- Arona...undefeated... IIIINNN YOOOO DREAAAMS
3)What is Prides Funniest Moment?
Mark Coleman falling off of the ropes after winning the GP
-When that Japanese guy with the nasty chin comes into the ring
- Emmanuel Yarlborough...enough said
- Mark Hunt Atomic Butt Drop
-Mark coleman eating s*** jumping on the ropes.
4)If i had a dime for ever time i heard Dana White say **** how many dimes would i have?
None i have only heard it bleeped/ or if you used the F-bomb in the answer
Note: i did accept funny stuff for this one
-A F*ing million
- You could fill up Scrooge McDuck's vault.
-Enough to pay Randy the money he wants
- how many dimes would you have, you would have a whole **** load of dimes
-Impossible to tell, since he is probably cussing at this very moment.
5)Was Roger Huerta's knee to John Halverson's head or shoulder?
Shoulder
-Kongo kneed Cro Cop in the balls 5 times!!!!!
- It wasn't his knee...*wink wink*
6)Why did Matt Hamilll beat Michael Bisping?
He didnt Bisping clearly won
-
PROOF!!
-Becuase he couldn't hear the crowd booing him
- Because he had the balls to come out to Born in the USA in England, and was impervious to the boos strictly because of his deafness. Oh, and Bisping's lady punches couldn't break the Deaf Defier.
7)Why Should Ken Shamrock be undefeated in Pride? (this one if for you Richie)
vs Saku = early stoppage
vs Fujita = he was owning till corner threw in towel
vs Frye = should have been stopped because Frye's leg was f***ed
vs Otsuka he won anways
-Becuase he is the worlds most dangerous senior citizen
-Ken Fought in Pride? No wonder Dana hates him so much!
- Because he has been having a love affair with Fedor for the last 5 years
8)How much wood could a wood chuck chuck, if Maurice Smith could chuck wood?
Here i accepted pretty much any crap
-none
-85mph the speed his kicks feel like
-About 7 cords
-Do Maurice nuthuggers even exist?
- Does this apply to wood chucking in the 90's or wood chucking today? There is a major difference between the eras of Maurice's wood chucking quantities.
-Are you racist? None.
9)Name two Chute Boxe Fighters who love to cuddle.
Shogun and Wand
- one other good one was accepted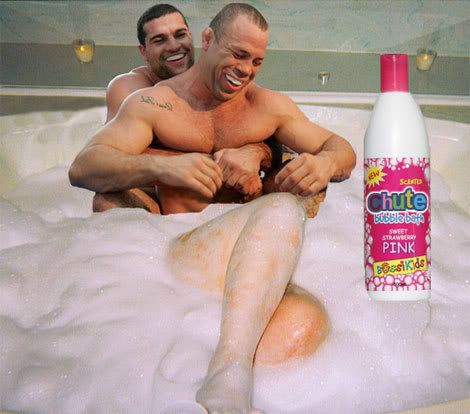 -CYBORG and NINJA because they both suck and like to hold eachother after each loss
10)Who would win in a Fight between Couture and Fedor?
Basically saying anything except Couture or Fedor would have gotten you a point
-Fedor is a Cyborg
-Couture becuase he is over 44 years old and im pretty sure he has solid titanium testicle, a midget he hides in his shorts to help take people down and HCK shorts
- TK, use MMAmath, duh,lol
Bonus: Name 3 reasons why Wanderlei Silva should fight Dana white instead of Chuck.
Tons!
Main 3
Everyone wants to see Dana KO'd
Dana is a girls name
Everyone wants to see a girl fight in the UFC
1)Chuck is washed up
2)Dana owned Tito who beat Wand
3)Pride guys are overrated and even a boxercise trained fight could beat the champs
1)Dana White would have beat Tito in their boxing match and tito beat wandy and he wants revenge
2)Dana white took to long to get wandy to sign a contract and wandy got knocked out twice in a row
3)Dana white say F*ck to much and wandy thinks dana white put that he gets to sleep with wandys girl in his contract
1) They are both bald
2) They both have an infatuation with Chuck
3) They both don't want to get beat up by Tito
1. cause dana is a semi pro boxer and will give wandy a better fight then chuck will
2.to knockout dana and still all of his **** load of dimes
3.Cause dana white has a girls first name
1)Dana cusses to much
2)Treats fighters like crap
3)Underpays them
Edit: The answers in black are the correct ones if you had something awesomely funny it was right also though.
Props to anyone who sent in answers and made this quiz rock.
atlas777 9/10 (By far the best answers)
fedorwins1 8/10
warglory 7/10
CwB 7/10
Boo_Radley21 6/10
Rush 6/10
thepunisher 5 1/2
babalu2720 5/10 (almost had a automatic fail for saying lol but redeemed himself later in the quiz)
D0wnUnd6e6r 5/10