Matimus
11/1/08 10:16:26AM
Born wednesday, 8lbs 9oz 22in long! future HW champ! lol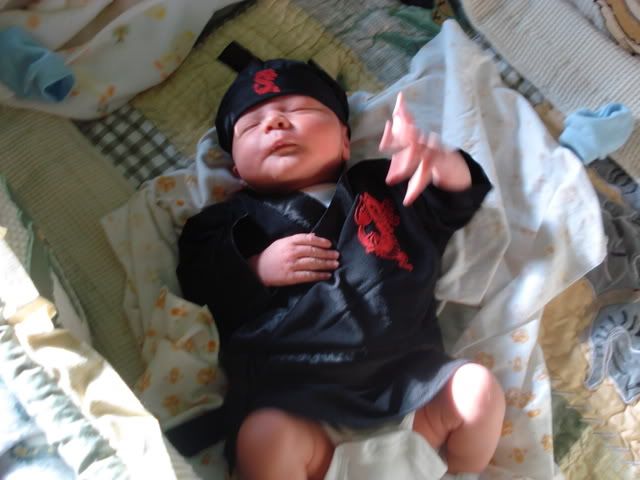 bruce lee stance
DCRage
11/1/08 10:35:38AM
Wow, barely out of the womb and you're already training them!?!
Congrats nonetheless.
zephead
11/1/08 10:52:47AM
Awesome. Congrats dude. Being a father is the greatest thing in the world. Well, next to having a strong pimiphand that is
holt8081
11/1/08 11:24:02AM
congrats
when will he start his training
He sure looks like a champ already
congrats
postman
11/1/08 11:46:32AM
Congrats Brother! Leg locks and crisp stright punching will be his keys to sucess!
Ben_Hutch
11/1/08 12:00:56PM
Congrats mate, make sure he knee's like Anderson
CONGRATS,To you and your family,think you could get him to join our camp we could use the help?
dannyfrank
11/1/08 2:42:34PM
awesome dude
ive already started training my 4 year old nephew. hes not that technical, but he's tall and has a vicious right hook
Kracker_Jap
11/1/08 3:58:10PM
Absolutely awesome Congrats, and God Bless
JoeySteel
11/1/08 4:53:08PM
congrats dude, cute baby.

But seriously thought, get him some gloves, he may be able to take the HW belt soon enough.
Matimus
11/1/08 8:08:02PM
Thanks everyone, propped as many as I could, Ill get the rest of you in 24 hours lol
ncordless
11/1/08 10:08:54PM
Congratulations Matimus!
I read somewhere that you should wait at least two months before starting contact training
Lockfrow
11/2/08 11:13:38PM
get to work on the next one
cmill21
11/2/08 11:17:35PM
Cute little bugger. Congrats.