cmill21
8/14/07 3:05:25PM
I can't post this in the new section because it was a newspaper interview in croatia. Hope you guys enjoy it, I'm so happy Mirko decided to hire Hippoloyte as his coach!!!

Is this your last contract Mirko?
CC: "I don't know, time will tell"

Dana has gotten a fighter who can bring him much money.
CC: "I think they love my fighting style in USA"

How are the preparations going?
CC: "I will have easier trainings this week, to regenerate my body. Last week I was training with Remy, Yvel and their coach Hippolyte. After this week I will have again full power trainings."

We heard that those 3 will return next week to train with you for your final stage?
CC: "Correct. And not only that, I've hired Hippolyte to be my coach. He will come to Croatia and I will come to Amstredam, that is our deal"

Do you plan to go to Holland just before you fight Kongo?
CC: "No. They don't have the cage there, and to me it's necessary."

Unfortunately it took one brutal loss to figure out the difference between cage and ring.
CC: "The cage and the ring are like fire and ice. When you clinch someone around the waist it's easier for him to escape. The reason is simple, you scratch your fingers on the fence, just one little touch on it, it's unbareable. The same is with your head, it can be very dangerous. And you also can't corner your opponents, since an octagon has no corners."

You are training once a week now?
CC: "Yes. Before London we will train once a day, on mornings."

We see you have everything in your gym, from octagon to a ping pong table (Božic his boxing coach passes atm throwing a ping pong recket into trash). Did you lose at ping pong Mirko?
CC: "You are right shortie. I was soooo angry, I almost pulled out my radiator"

What do you think about your new cage:
CC: "It's great, I love it. It's a little shorter than the original one, I should have got one sooner."

What's your opinion on Dean Lister?
CC: "The guy is a living encyclopedia, he knows everything."

Mirko and Lister looked tired as heck, but still they both had the patience to answer our questions. CC started to talk about his loss to GG.
"You see, Gabriel has elbowed me 5 times in the temple. I had no defense whatsoever for that. When I got up I was finished, I couldn't defend the high kick."

Mirko continued: "This is a sport where one single shot can finish you. People pity me and I seriously don't want that, I HATE it. In football if you lose a match, it's forgotten the next day. You score from a free kick the next day and you are king again.
In Manchester I had a bad day. If I was to fight again today, trust me, it would be a different story. I'm dying for a rematch."

Kongo?
CC: "I think he's training with Jackson, he's 32, he hasn't beaten any of top names, but such fighters can be the most dangerous ones. He has all my respect but I think I should finish him in the first round."

Couture or GG?
CC: "I give the edge to Randy. He will tire him out, GG hasn't fought 5 rounds before unlike Randy. I say Randy via decision."

Your next fight?
CC: "Until the end of the year there are two termins, November and December. I picked December. If I beat Kongo I will most likely fight Minotauro in las Vegas."

Were you impressed by Vegas?
CC: "Not really."



Now very short Listers interview.

Can you tell us something about yourself Dean?
Lister: "I am the two time Champion in Abu Dhabi. I was born in San Diego, but I grew up in Brasil so I speak Portuguese very well. I love to travel, that's why I call my self student of the world.

We know you have much experience in jiu jitsu and cage.
Lister: "When I get my opponent on the ground I feel he is in my world."

How do you feel in Zagreb (capital of Croatia where Mirko lives)?
Lister: "It's great to be here, I ran away from some problems at home. It's an honour to work with Mirko who is along with Fedor and Randy best fighter in the world."

We could hear techno music on the backround as training was ending. Next week the Dutch men are coming again, until then, Sayonara.

That's it guys.

cmill21
8/14/07 3:09:31PM
And here are the Pics from the interview: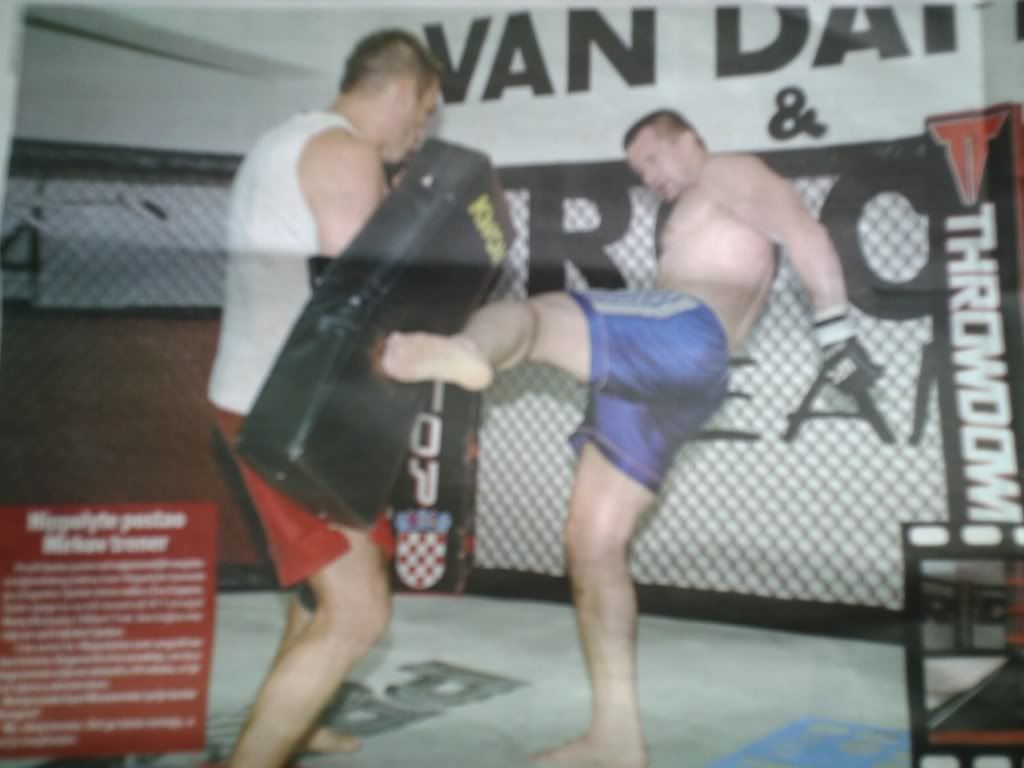 Mastodon2
8/14/07 3:24:46PM
Cheers man, War Cro Cop, he is my hero, I hope he destroys Kongo, so he can even the score with Minotauro!
juanez13
8/14/07 3:30:39PM
good interview, nice to see he is taking this serious, if he continues to train like this there is no doubt he will be the champ, and i dont think noguiera would beat him this time......
thepunisher
8/15/07 10:10:18AM
Mirko said 1st round KO for Kongo
poor Kongo
DCRage
8/15/07 10:45:17AM
Nice to see he's pulling for Couture. I wonder if his opinion would've been different if Mirko beat Gonzaga and got the shot...but if he wins and then faces and beats Nogueira in December, at that point I think he'll have bounced back enough to get his title shot assuming he's still under contract at the time (I thought his initial deal was for 6 fights so at that time he should still have 2 fights left).
cmill21
8/15/07 2:01:45PM
I like the fact that he's still got his confidence. I'm really happy he finally picked a coach, and hippolyte is one of the best coaches in the world. I'm also happy that he wants gg again. He's not looking past kongo and kongo better take him down, and hope lister didn't show him anything lol.
I dont like cro cop any more he wasn't impressed by my city Las Vegas, i hope he loses so he doesnt fight big nog in december in Vegas... Go fight some where else....
now leave me alone so i can go cry, mirko hurt my feelings
cmill21
8/15/07 3:00:38PM
lol las vegas is to flashy for a man from eastern europe.
cmill21
8/15/07 6:15:52PM
Can't believe no one's pointed out the pride logo in the middle of the octagon lol