Jeez dude I totally forgot about all the hilarious endings there have been. Lebanner's double KO was insane!
How about Herring's fight ending at the touching of the gloves when he got smooched?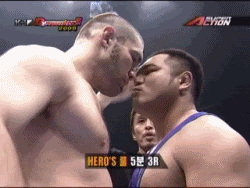 Then there's always Varner's sleep-to-worm dance he pulled after subbing Gillam. Gillam flipped him off instead of tapping out, so Jamie put him to sleep and rubbed it in
LMAO... dude is just out cold in the background!!!