Not your top five favorite fighters, but your top five favorite fighters to WATCH. For example, Tito Ortiz will never be on my list of favorites, but I will admit that I get excited when I see his name on a card, because win or lose he's an exciting fighter and puts on a show. So, who do you guys enjoy watching?
5. Wanderlei Silva - I always enjoy a good brawl, and Silva is the definition of the word. He doesn't always land while he's throwing haymakers left and right, but damn is it fun watching him try. "The Axe Murderer" pretty much sums up Silva's mindset, because each time he steps in the cage to fight, he tries to murder to the man standing across from him.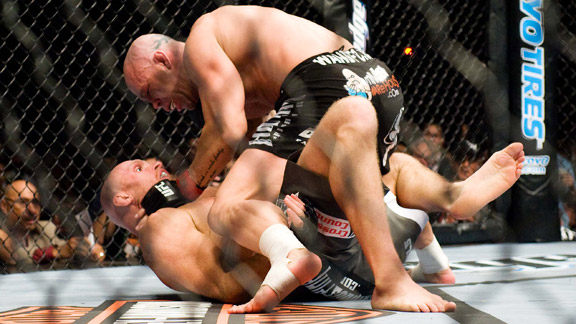 4. Frankie Edgar - Edgar doesn't always finish fights, but that doesn't mean he's not entertaining. Starting off as a wrestler, Edgar has made leaps and bounds in his crisp boxing style to the point where I think he has some of the best hands in the UFC. He doesn't have power, but the pure technical skill is obvious, and not a lot of guys can handle that when he mixes it with his speed and movements. It's fun to watch his opponent's throw a punch, only to have Edgar dodge it and land three of his own in the process.
3. Lyoto Machida - This should be obvious. Machida is one of kind, and no other fighter in MMA uses Karate like Machida does. Once known for being the least hit man in the UFC, he uses effective counter punching with slick backwards movement to keep his opponents guessing, and just when they think they have him cornered he strikes and sends them into defense mode, where he will then start over until he manages to pick his opponent apart. Always fun to watch someone like Machida to use their style to such an extent.
2. Anderson Silva - Another obvious answer. Silva is arguably the best striker in the sport, and it's hard to argue against that when you look at all he's done in the UFC. Everything from destroying guys like Griffin and Leben without being touched, to killing Belfort's dreams of once again being champion with a single front kick to the face. His striking is second to none, and so far no one has been able to solve of puzzle of The Spider inside the UFC.
1. Chuck Liddell - Sure, he's my favorite fighter, but he has other reasons for being my favorite to watch. Chuck's one of those fighters where you know he will knock someone out, or be knocked out, and that will have most fans on the edge of their seats during the course of the fight. I'm one of those fans. Add in his jerky striking style with his unorthodox knockouts and you have one the most entertaining fighters to watch inside the cage.