EliteXC: July 26 on CBS
Venue: Stockton Arena in Stockton, California
4 main card fights air live on CBS from 9-11 PM ET, 3 earlier "high quality" fights air live on Showtime from 8-9 PM ET
CBS fights:
vs.
The rematch: EliteXC Middleweight Champion Robbie Lawler vs. Scott Smith for the title
vs.
Jake Shields vs. Nick Thompson for the EliteXC Welterweight Title
vs.
Shayna Baszler vs. Cristiane Cyborg (wife of Evangelista "Cyborg" Santos). Winner will face Gina Carano for the inaugural EliteXC Women's Championship
vs.
Nick Diaz vs. Thomas Denny
Showtime fights:
vs.
Antonio Silva vs. Justin Eilers for the inaugural EliteXC Heavyweight Title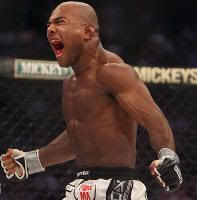 vs.
Wilson Reis vs. Brian Caraway
vs.
Rafael Feijao vs. Travis Galbraith