Yo come on baby just a lil kiss...nah B...yo you gonna give it me...byah!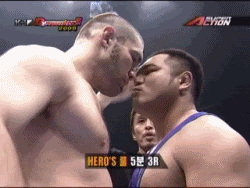 Should be easy money for Silva. Should be a significant weight and height disadvantage as well as Yoshihiro is 5'10 220lbs. There is always the outside chance of Yoshihiro landing a bomb as he does have pretty heavy hands.
Yoshihiro is pretty well versed in submissions so more than likely I think this ends in a TKO with Antonio pounding from top position.
Antonio should be an instant fan favorite and there's a lot of good fights out there for him.