We're underway!
Prelims:
Stefan Struve beat Chase Gormley by submission (triangle) at 4:04 of round 1.
Kyle Kingsbury beat Razak Al-Hassan by split decision, 29-28 Kingsbury, 29-28 Al-Hassan, 29-28 Kingsbury.
Rob Kimmons vs. Jorge Rivera
Yushin Okami vs. Chael Sonnen (When I first checked Junkie, they had Okami vs. Rivera, haha, screenshot coming)
TV fights (9-10 PM ET on Spike):
Pat Barry vs. Antoni Hardonk
Ryan Bader vs. Eric/Red Schafer
PPV:
Anthony Johnson vs. Yoshiyuki Yoshida-Catch Weight at 176
Spencer Fisher vs. Joe Stevenson
Gleison (Graison) Tibau vs. Josh Neer-Catch Weight at 157
Cain Velasquez vs. Ben Rothwell
Main Event: UFC Light Heavyweight Champion Ryoto (Lyoto) Machida vs. Mauricio Rua for the title
Most of the usual sites will have the post-fight press conference starting sometime between 1-1:30 AM ET, I can confirm Junkie will have it. After all that's over, don't forget to switch over to HDNet for DREAM 12 LIVE at 2 AM ET.
Edit: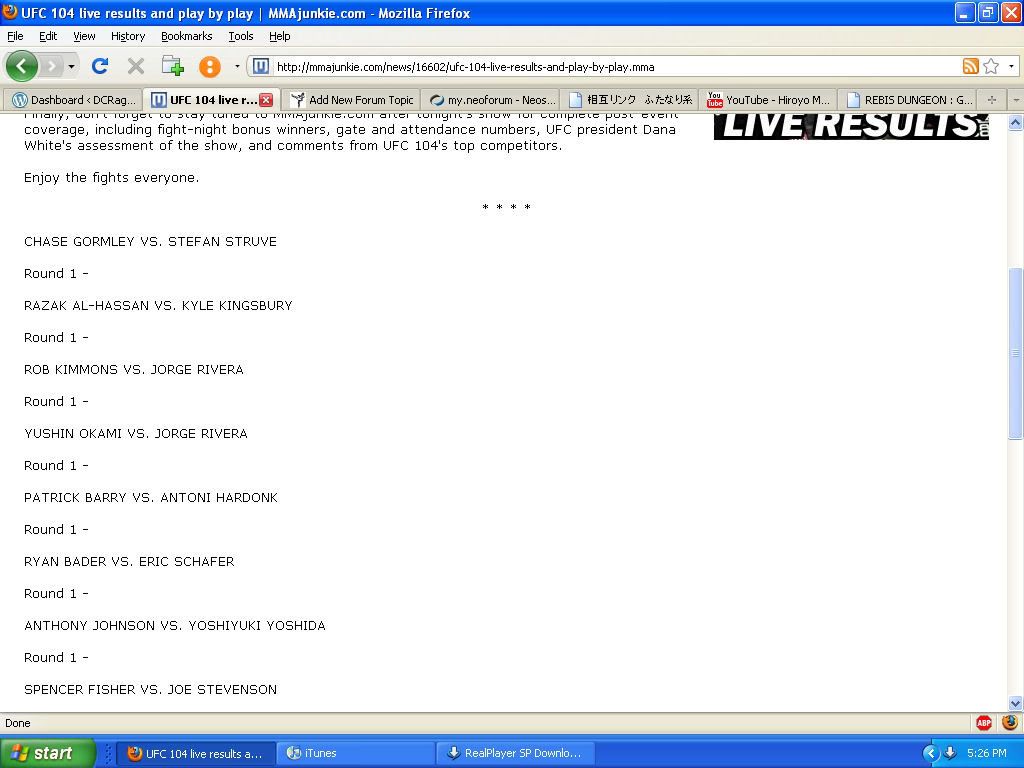 That's good money for Rivera.