POLL: Which is the Best KO Ever?
| | | | |
| --- | --- | --- | --- |
| Tank over Nelmark | | 6% | (2) |
| Rampage over Arona | | 34% | (11) |
| Gonzaga over Cro Cop | | 34% | (11) |
| Cro Cop over Igor | | 9% | (3) |
| Cro Cop over Wanderlei | | 6% | (2) |
| Franklin over Quarry | | 9% | (3) |
chickmagnet
1/11/08 9:37:32PM
I looked at the whole thread and I put the 6 most popular KO's on the poll,

I put...

Tank over Nelmark
Rampage over Arona
Gonzaga over Cro Cop
Cro Cop over Igor
Cro Cop over Wanderlei
Franklin over Quarry
I can't believe Arlovski- Buentello isn't on there?!
That was one hell of a punch!
Mayhem13
1/11/08 9:47:51PM
out of the list I will take the Slampage 2000 choice.

although my favorite ius Aleksander E over Morias
babalu2720
1/11/08 10:19:05PM
Igor over Bueno, that's what you call out on your feet.
loonytnt
1/11/08 10:24:47PM
nick on robbie was my fav (not on poll)
kevietre
1/11/08 10:41:32PM
Scott Smith Pete Sell
Rashad Evans Sean Salmon
juanez13
1/11/08 11:25:33PM
joachin hansen's KO by knee over luiz azeredo, and Masakazu Imanari and caol uno......also Phil Baroni's KO over dave menne, Igor Vovchanchyn's KO over Francisco Bueno...Kid Yamamoto's 4 second KO of Kazuyuki Miyata due to a sick flying knee....also gomi vs Azeredo, and W. Silva vs. Rampage2.......but out of the poll ill have to go with cro cop over igor..crazy left high kick

can't forget when Lindland KOed himself, that is all i have to say about that one
(not the best you will ever see, but it certantly a funny one)
I chose Rampage's slam on Arona, just due to the fact of how stunned I was the first time I saw it... I was staring at my tv in disbelief thinking "My god did he really just do that...."
SpiderSilva
1/12/08 3:55:51PM
I voted page
But CC looked like he died in the middle of the cage still to this day when watching that wow
I would also say Evens KO was shocking as well
cmill21
1/12/08 4:24:21PM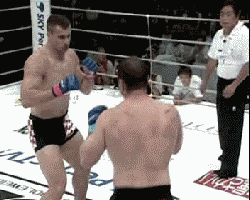 Be serious, thats rediculous.
Manfred
1/12/08 8:28:45PM
In MMA: Aleks over Morais
LINK
n K-1: LeBanner over Frye
Link (watch the slo-mo at the end)